Surgery
Webinars & Conferences
Surgery Content
Conference series includes effective keynote lectures from Medical and Health Care professionals and serve as a platform between Clinicians, Surgeons and Scientists, Researchers, Academia, Industry, Regulators to come together to discuss the new environment for health care challenges and the opportunities" in the Surgery Meetings.
Conference series provides infinite scope for associations by assembling academicians from well-known universities and top level industrialists from business groups to network on a same platform creating a channel for mutual associations and partnerships. Surgery Conferences are a major avenue for young and talented researchers, entrepreneurs to advance their prospects by interacting with distinguished scientific professionals across the globe.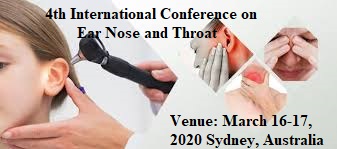 ENT Meetings| ENT Conference | ENT Congress | Otolaryngology | Medical Conference | Surgery Conference | ENT Conference 2020 | ENT Experts Meet 2020 | Otolaryngology Surgery Conference | Clinical Conferences.
Conference Series llc Ltd welcomes you at 4th International Conference On Ear, Nose and Throat from March 16 -17, 2020 at Sydney, Australia which melds brief keynote presentations, speaker talks, Exhibition, Symposia, and Workshops. ENT conference is a unique meeting that unites otolaryngolists in order to pursue a holistic approach to understanding the concepts in the field ENT Research. As a leader in the emerging multidisciplinary field of ENT, ENT conference 2020 has set the standard in the rapidly growing field of otolaryngology that encourages a broad spectrum of knowledge for improved practice and patient care in ENT Research.
Conference Highlights: Ear Disorders and Treatments | Pathophysiology and Disorders of ENT | Nasal Disorders and Surgical Treatment | Tinnitus | Pediatric Otolaryngology | Neurotology | Head and Neck Oncology | Audiology | Obstructive Sleep Apnea (OSA) | Laryngology | Sinusitis | Rhinology and Hypersensitivity | Anesthesia in Ear, Nose and Throat Surgery | Physiological Disorders of Ear, Nose & Throat | New Treatment Approaches for Hearing Disorders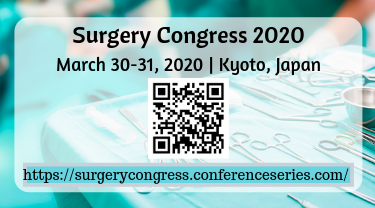 11th International Congress on Surgery (Surgery Congress 2020) has been scheduled from March 30-31, 2020 at Kyoto, Japan. Surgery Congress 2020 is highlighting with the theme "Enrichment of Recent research in Surgery and Surgical Advancements".
Surgery Congress 2020 establishes several inter professional researchers and practitioners who create a great platform to meet the top surgical experts, Ophthalmologists, Cardiologists, ENT Specialists, Endocrinologists, Oncologists and Otolaryngologists around the globe. This is single best opportunity to reach the largest participants, Diagnostics devices vendors, Medical professional from top Pharmacy companies collaborated with Surgery. Surgery Congress 2020 was marked with the attendance of young and brilliant researchers, business delegates and talented student communities representing with Beneficial Event.
Major Scientific Sessions: Surgery and its Specialties | Ocular Surgery | Otorhinolaryngology Surgery | Aesthetic medicine and plastic surgery | Endocrine Surgery | Cardiothoracic Surgery | Transplantation Surgery | Urology Surgery | Neurosurgery | Orthopedic Surgery | Bariatric surgery | Acute Care Surgery | Perioperative care | Obstetric and gynecologic surgery
Surgery Conference | Surgery Events | Surgery Congress | Upcoming Surgery Conference | Internal Congress on Surgery | Surgery Meetings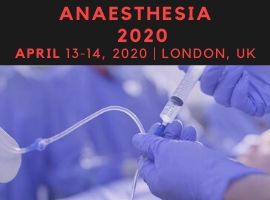 Surgery Conferences | Anaesthesia Conferences | Surgeons Conference | Anaesthetics Conferences 2020
Anaesthesia 2020: 6th International Conference on Surgery and Anaesthesia is scheduled to be held during April 13-14, 2020 at London, UK. The word anaesthesia is coined from two Greek words: "an" meaning "without" and "aesthesis" meaning "sensation". There are various types of anaesthesia. Throughout their lives, most people will undergo anaesthesia either during the birth of their baby or for a surgical procedure, which could range from relatively short, simple surgery on a day-stay basis through to major surgery requiring complex, rapid decisions to keep them safe. Many of today's operations are made possible as a result of developments in anaesthesia and training of specialist anaesthetists. Patients having anaesthesia will have an anaesthetist with them all the way from the preoperative assessment of their medical conditions and planning of their medical care, to closely monitoring their health and wellbeing throughout their procedure to ensure a smooth and comfortable recovery. Relief of pain and suffering is central to the practice of anaesthesia. Despite an increase in the complexity of surgical operations, modern anaesthesia is relatively safe due to high standards of training that emphasise quality and safety. Some operations can relieve or prevent pain. Others can reduce a symptom of a problem or improve some body function. Some surgeries are done to find a problem. For example, a surgeon may do a biopsy, which involves removing a piece of tissue to examine under a microscope. Some surgeries, like heart surgery, can save your life The global anesthesia monitoring devices market size was valued at USD 808.7million in 2015. The rising safety awareness amongst the physicians and the soaring volume of surgeries is expected to boost the demand for these devices. For instance, according to the CDC (Centres for Disease Control and Prevention), in 2014, about 51.4 million surgeries were performed in the U.S. Moreover, as per the American Society of Plastic Surgeons (ASPS)there has been a 3.0% rise in the number of plastic surgeries in the United States in 2014 as compared to in 2013
Scientific Sessions: General Surgery, Neurosurgery, Orthopedic surgery, Anesthetics, Spinal Anesthesia, Steroid Anesthetics, Sedation, Surgery Conferences USA, Analgesia, Anesthesia Equipment, Acute Pain Management, Surgery Anesthesia, Anesthesia Conferences, Robotic Surgery, Plastic Surgery & Cosmetic Surgery, Plastic Surgery & Cosmetic Surgery, Acute Stress Response, Benefits of Anesthesia, Pediatric Anesthesia, Anesthetic Pharmacology, Surgery Conferences 2020, Anesthesia Awareness, Anesthesia for Down syndrome, Anesthesia Management Systems (AIMS) , Current trends in Anesthesia Cardiothoracic surgery, Bariatric surgery, surgery conferences, General surgery conferences 2020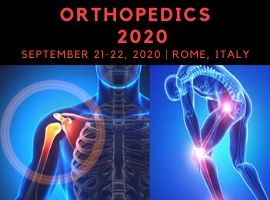 Orthopaedic Conferences | Orthopedics Conferences 2020 | Rheumatology Conferences | Arthroplasty Conferences
Orthopedics 2020: 14th International Conference on Orthopedics, Arthroplasty and Rheumatology is scheduled to be held during September 21-22, 2020 at Rome, Italy. Osteoporosis is a condition that weakens bones, making them sensitive and further inclined to break. It becomes progressively more than a long time and is as often as possible simply dissected when a minor fall or sudden impact causes a bone break. Osteoporosis impacts more than three million individuals in the Italy. More than 500,000 people get recuperating focus treatment for delicacy splits (breaks that occur from standing height or less) reliably consequently of osteoporosis. Osteoporosis may be a result of lower than ordinary bone mass and more unmistakable than customary bone mishap. Bone disaster augments after menopause in light of lower levels of estrogen. Osteoporosis may moreover happen as a result of different diseases or treatments including alcohol habit, anorexia, hyperthyroidism, kidney ailment, and surgical departure of the ovaries. Osteoporosis happens when the arrangement of new bone doesn't remain mindful of the clearing of old bone. Arrangements, sound eating regimen and weight-bearing action can help expect bone setback or strengthen authoritatively feeble bones. The current market estimates (2016-2021) estimate that the global market for orthopedic devices will rise to $55.60 billion by 2021 at a CAGR of about 5.7 percent from 2016 to 2021. The size of the Orthopedic Devices Market in 2016 reached USD 39 billion and is expected to be more than 3 percent CAGR from 2017 to 2024.
Scientific Sessions: Osteoporosis, Modern Orthopedics, Orthopedic Surgery, General Orthopedics, Orthopedics Conferences, Trauma and Fractures, Upcoming Orthopaedic Conferences, Physiotherapy, Orthopedic Rehabilitation, Meetings on Orthopaedics, Orthopedics Medical Devices, Orthopedic Trauma, Orthopaedic Conferences 2020, Pediatric Orthopaedics, Orthopedics Diagnostic Techniques, Orthopaedic Conferences in USA, Orthopedic Biomechanical Research, Musculoskeletal Oncology, Bone Grafting, Orthopaedic Conferences in Europe, Arthroplasty and Rheumatology, Shoulder, Elbow, Hip & Knee Reconstruction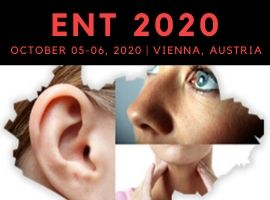 ENT Conferences | Otolaryngology Conferences | ENT Conferences 2020 | ENT Congress
ENT 2020: 6th European Otolaryngology-ENT Surgery Conference at Vienna, Austria on October 05-06, 2020. The conference includes keynote presentations, Oral talks, Poster presentations and Exhibitions. ENT Conference 2020 which aims to gather the most elegant societies and industries along with the renowned and honourable persons from top universities across the globe. ENT 2020 on behalf of its organizing Committee welcomes all the Otolaryngology researchers, industrialists, doctors, young scientists as well as student and corporate delegates to participate and to have a great experience. The theme of the conference "Current Diagnosis & Treatment in Otolaryngology - ENT" During ENT conferences, the International symposiums, B2B meetings, international workshops will also be organized to discuss the specific topics in the field of Rhinology and Otology. The conference also welcomes International exhibitions from corporate sectors to showcase the recent advancements in tools and techniques. Conferences Series LLC LTD organizes a 1000+ Global Events inclusive of 300+ Conferences, 500+ Upcoming and Previous Symposiums and Workshops in Asia, Europe, USA and Middle East with support from 1000 more scientific societies and publishes 700+ Open access journals which contains over 30000 eminent personalities, reputed scientists as editorial board members.
Scientific Sessions: Otology/ Neurotology, New Trends in ENT, Head and Neck Surgery and Oncology, Pediatric Otolaryngology, Hearing Impairment and Deafness Causes, Rhinology and Allergy, Laryngology, Otolaryngology, Surgical Approaches for Ear, Nose and Throat diseases, Intraoperative neurophysiological monitoring, Anesthesia in Ear, Nose and Throat Surgery, Speech Language Pathology, Surgery for Nasal Disorders, Facial Plastic and Reconstructive Surgery, Obstructive Sleep Apnea (OSA), Current diagnosis and treatment in otolaryngology, Pathophysiology of Ear, Nose and Throat, Anatomy and Physiology of Ear, Nose, and Throat, ENT Infectious Diseases, Sinusitis-Types and Treatment, Rhinitis and Rhinosinusitis - Types and Treatment, ENT Technology, Sinonasal Disorders and Surgical Treatment, Ear Disorders, Tinnitus, New Treatment Approaches for Hearing & Speech Disorders, Surgical Approaches for Larynx in Adults and Pediatrics
Major Associations & Societies related to Surgery:
American Surgical Association: ASA
The Association for Surgical Education
Association of Surgeons of India (ASI)
American Academy of Orthopedic Surgeons – AAOS
European Surgical Association
Association of Surgeons of Great Britain and Ireland (ASGBI)
American Pediatric Surgical Association
American Society of Colon and Rectal Surgeons
Society of American Gastrointestinal and Endoscopic Surgeons
Association for Academic Surgery
American College of Surgeons
American Society of General Surgeons
Society of Thoracic Surgeons
EURAPS - European Association of Plastic Surgeons
World Federation of Associations of Pediatric Surgeons
International Society of Surgery(ISS)
Association of Women Surgeons
The American Association for the Surgery of Trauma
American Association of Plastic Surgeons: AAPS
American Association of Neurological Surgeons
American Association for Hand Surgery: AAHS
Ambulatory Surgery Center Association
Peripheral Vascular Surgery Society
American Society for Dermatologic Surgery
The Eastern Association for the Surgery of Trauma
Association of VA Surgeons
American Society of Breast Surgeons
American Society of Plastic Surgeons
British Association of Pediatric Surgeons (BAPS)
Australian Society of Plastic Surgeons
International Society of Craniofacial Surgery
International Association for Ambulatory Surgery
International Association for Trauma Surgery and Intensive Care IATSIC
American Society of Cataract and Refractive Surgery: ASCRS
The Associations of Surgeons of South Africa
International Society of Aesthetic Plastic Surgery
ILAR International League of Associations for Rheumatology
American College of Rheumatology
Indian Rheumatology Association
Asia Pacific League of Associations for Rheumatology
International Pediatric Transplant Association – TTS
Organ Transplant Associations
American Organ Transplant Association
Australasian Transplant Coordinators Association
American Society of Transplant Surgeons: ASTS
American Society of Transplantation (AST)
American Laryngological Association
American Academy of Otolaryngology-Head and Neck Surgery
Association for Research in Otolaryngology
Professional Beauty Association
Cosmetology Association of Nova Scotia
Association of Cosmetology Salon Professionals
American Kinesiology Association
American Society of Biomechanics
International Society of Biomechanics
American Society for Aesthetic Plastic Surgery
Indian Association of Aesthetic Plastic Surgeons
American Society of Aesthetic/Cosmetic Physicians
The British Association of Aesthetic Plastic Surgeons
Oriental Society of Aesthetic Plastic Surgery
American Podiatric Medical Association: APMA
Indian Podiatry Association
American Academy of Podiatric Sports Medicine
Society for Vascular Medicine: SVM
American Board of Vascular Medicine
Society for Vascular Medicine
American Association of Oral and Maxillofacial Surgeons
American Society of Craniofacial Surgery: ASCFS